Land owners have rights to what is above and below the surface of their property.
From a legal perspective, "land" refers to what extends from the center of the earth to the outer edge of the atmosphere. This is referred to as the "heaven to hell" concept.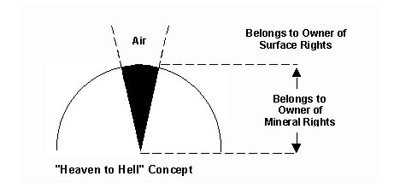 Land owners can claim ownership of:
surface rights
mineral rights
surface and mineral rights
Surface rights
Someone who owns surface rights to land owns rights to the land, air space above the land (subject to the rights of others, such as airlines) and any:
sand
gravel
peat
clay
marl
Surface rights do not include ownership of minerals.
Mineral rights
Someone who owns mineral rights to a property may own:
one specific mineral
several specific minerals
all of the minerals
Exceptions to this are gold and silver, which are generally considered property of the Crown.
Legal description
Surface rights
If the land owner only has surface rights, the certificate of title will include a mineral reservation, which is a phrase such as "excepting thereout all mines and minerals."
Mineral rights
If the land owner only has mineral rights, the certificate of title will name all minerals claimed, such as "all coal, petroleum and natural gas" or "all mines and minerals".
Surface and mineral rights
If the land owner has both surface and mineral rights, the title will not have a mineral reservation.
Mineral Certificates
A Mineral Certificate is a search of the historical title record that certifies:
what minerals are owned on a specific parcel of land
who owns the minerals
date of ownership
mines and minerals that are shown in the disposition
Mineral Certificates are issued by Land Titles Offices before registering a transfer, mortgage or lease of mines and minerals. They are only issued with a disposition document, such as a Transfer or Lease that is to be registered at land titles or for a Lease that is not being registered at land titles.
The time it takes to issue a mineral certificate will depend on:
if the minerals have previously been checked or are only being checked now
how far back the search must go
how many times the title has been transferred
if the title has ever been split or subdivided
An asterisk (*) in front of the mineral statement on a title indicates that a mineral check has been done on that parcel.
780-427-2742 (Edmonton)
403-297-6511 (Calgary)
8:15 am - 4:00 pm (Monday to Friday,
closed statutory holidays)