Together, these governance bodies provide central direction and oversight on information management and technology (IMT) practices and policies across the Government of Alberta. The work enables transformation and drives outcomes that ensure information management and technology is secure and efficient, and that risks are identified and managed, with preparations in place to manage emergencies.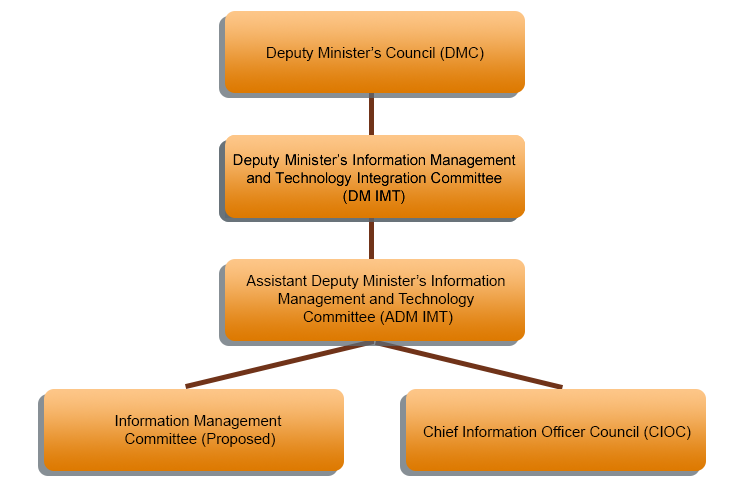 Deputy Minister's Information Management and Technology Integration Committee
Purpose of the Committee:
The Deputy Minister Information Management and Technology Integration (DM IM/IT) Committee ("the Committee") acts as an agent of the Deputy Ministers' Council (DMC). The Committee is the central body that provides direction and oversight on IM/IT across the Government of Alberta (GoA) and is the approval body for IM/IT strategic, policy, and investment decisions. The Committee ensures a GoA one-enterprise approach to IM/IT that is secure, efficient, enables transformation, manages risk and emergency preparedness, and delivers value back to GoA departments and the citizens of Alberta.
The Committee is the governing body that provides IM/IT strategic and operational direction across government.
Membership:
The Committee will be comprised of:
Deputy Minister, Service Alberta (Chair)
Deputy Minister, Corporate Human Resources and Public Services Commissioner
Deputy Minister, Education
Deputy Minister, Environment and Parks
Deputy Minister, Health
Deputy Minister, Human Services
Deputy Minister, Infrastructure
Assistant Deputy Minister's Information Management and Technology Committee
Purpose of the Committee:
To serve as a cross government oversight body for the review and recommendations concerning GoA information resources and technology.
The Assistant Deputy Minister Information Management and Technology Committee (ADM IMT) receives and provides input on strategies and policies, offers guidance and direction to ministries and working groups, and provides recommendations to the Deputy Minister Information Management and Technology (DM IMT) Committee. This structure enables a strategic, government-wide approach to the evolution of IM and IT to best support our business requirements which in turn supports the needs of Albertans. Oversight encompasses all aspects of IM and IT, including FOIP, IMT Policy, Information Security, Corporate Architecture, IT Investment Management, Open Government, Shared Network Services, IT Infrastructure Services, as well as information activities that are mandated across the GoA.
Information Management Committee
Chief Information Officer Council
Purpose of the Council:
Chief Information Officers (CIO) in the Government of Alberta have a leadership role within their individual government entities, as well as share in the leadership of corporate policy and directions. CIO Council members provide leadership for the corporate management and use of information and information technology to maximize government investments and to facilitate innovation in government business delivery.
The Committee is chaired by the Corporate Chief Information Officer, who is responsible for fostering a consistent approach to decision-making and governance of information technology for the government. This includes authorizing and managing a framework for IMT policy for the enterprise, developing policy directives and facilitating investments in infrastructure technology programs and services.
In this section
Contact this service
IMT in the News